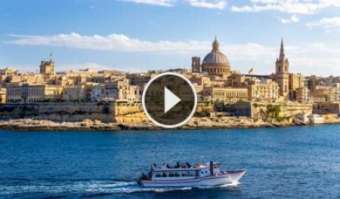 Valletta is not only the capital of Malta and a famous tourist centre, but also one of the largest and most ancient ports in the Mediterranean. The city is located on the North-East of the country, the largest natural Bay on the European continent.
Republic street Meridian passes through the city, here are concentrated the largest number of attractions. It is conducive to leisurely walks, pleasant meetings and interesting pastime. One of the most conspicuous on Republic street is the building of the Cabinet of Ministers of Malta — the Auberge de Castille, where in the middle Ages was the residence of the knights of Spain. And next, on the Palace square is the office of the President in the most mysterious and majestic Palace, Valletta, the Palace of the Grand Master. Despite the fact that there every day doing their job of high-ranking men, some rooms of the Palace can be visited with a guided tour. Moreover, there are many things worthy of admiration, for example, the unique knight's gear, made in the 14th century.
Near the Palace is Liberty square. Worth a look here to admire the beautiful Palace Ferreria, built in the spirit of the best Italian architectural tradition, or to go to some premiere in the Royal Opera house.
111