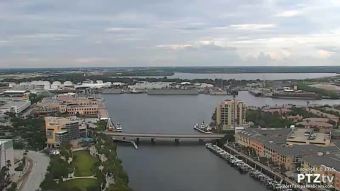 Watch live camera of Tampa, Florida, USA.
The city of Tampa is located on the west coast of Florida, on the Gulf of Tampa Bay. It borders with the towns of St. Petersburg and Clearwater. It is considered one of the fastest growing cities in Florida.
Tampa – nestled on the shore of a large bay Tampa Bay that the peninsula of Florida, the third largest city in the state. How did the name of the city is not precisely determined, but there are two versions. On one of them it believed that the city got its name from the Indian word "Tampa", which means "fire sticks" (as the Indians called lightning). And indeed, it is a natural phenomenon occurs here very often during summer storms. The second version of the name of the city more modern. Already in 1695 the maps can be found Bay of Tanpa, Tanpa Bay. But the Spaniards arrived did not understand the language of the local tribes and decided that Tanpa – is the name of the area. And over time, Tanpa went to Tampa.
Tampa (Tampa) is located in the west central part of the peninsula of Florida (Florida). The town lies on the bank of a natural bay that bears the name of Tampa Bay (Tampa Bay) and extending approximately 55 km inland of the peninsula of Florida. For most of its length the bay has a width of 8 to 16 km.
Region located in the Tampa Bay area of ​​the Gulf, is called Tampa Bay Area. The composition of the urban agglomeration of Tampa Bay Area consists of three main cities: Tampa, Clearwater (Clearwater), St. Petersburg (St. Petersburg), as well as several dozen towns with a population of between 10 and 100 thousand inhabitants. In total, the urban agglomeration of Tampa Clearwater St. Petersburg is home to about 4 million people. Directly in the city of Tampa in 2013 lived 352 thousand inhabitants.
111